SIMPLIFY YOUR PROCESSES WITH AR AUTOMATION
Businesses Rely on Receivables to Support Their Growth
Productivity improvements are the lifeblood of B2B businesses. If your invoices are not getting paid on time, now is the time to improve your accounts receivable and cash flow with the right software and data-enhanced embedded payments. Bill360 is the smart solution to maximize efficiency and reduce manual labor.
of customer payments to businesses arrive late every month
of businesses say late payments are preventing business growth
of all B2B transactions rely on paper checks and manual workflows
YOU CAN DO MORE WITH DATA
Business Intelligence at Your Fingertips
Bill360 captures a new category of data that is not readily available – financial data between you and your customers. These valuable business insights will allow you to take actions that improve the collection of receivables, enhance cash flow, and improve your customer relationships.
Bill360's Data Creates Value in Several Ways:
IMPROVE COMMUNICATION WITH YOUR CUSTOMERS
KNOW MORE ABOUT YOUR CUSTOMERS
SIMPLIFY THE CUSTOMER EXPERIENCE
GROW YOUR SALES
---
Bill360 is the only AR automation platform that uses unique data-driven business intelligence, controls all aspects of payments, and is specifically built for B2B companies using QuickBooks
®
and Xero®!
---
The Effect of Late Payments
14
Hours
The average time businesses — even small B2B businesses — waste every week chasing late payments.
$300,000
Dollars
The average amount owed to businesses, including small B2B companies, in late customer payments.
64
Days
The average DSO (Days Sales Outstanding) for all small-to-medium sized business around the world.
DATA-DRIVEN AR AUTOMATION FOR B2B SUCCESS
What Makes Bill360 Different?
Bill360 is purpose built for B2B companies under $100 million in annual revenue. B2B businesses have unique needs compared to B2C companies and they tend to be larger, needing a higher level of support. Bill360 is purely focused on the needs of B2B companies. Our U.S.-based service and support team is ready to serve you. Our easy-to-use, secure, SaaS-based invoicing and payment software automates complicated AR processes. We enable businesses to accelerate the transition from paper invoices and checks to auto-routed invoices and embedded payment acceptance—all in a single software application. If you're not happy after your first 120 days of service, Bill360 will give you a complete refund of all software fees from those first 4 months!
Automating Processes
Bill360 uses data insights, unique payment technology, and automated collection tools to advance AR automation, while improving collections performance between sellers and buyers.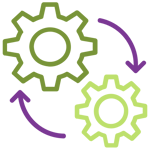 Serving the B2B Market
It took 2½ years and 28 software developers to build Bill360 to support the underserved B2B market, which utilizes a fragmented array of software and separate payment providers — until now!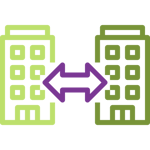 Digital Collaboration Tools
Bill360 provides powerful bi-directional communication between you and your customers, which speeds up the resolution for any inquiry or dispute and allows you to get paid on time.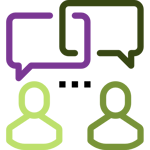 AR AUTOMATION TO THE RESCUE
How Much Manual Work Are You Doing?
Does your AR team have to manually match payments and remittance data? Research shows you are not alone in dealing with this problem. 84% of businesses are wasting time on manual tasks.
See just how much you can save by reducing your DSO and increasing your productivity!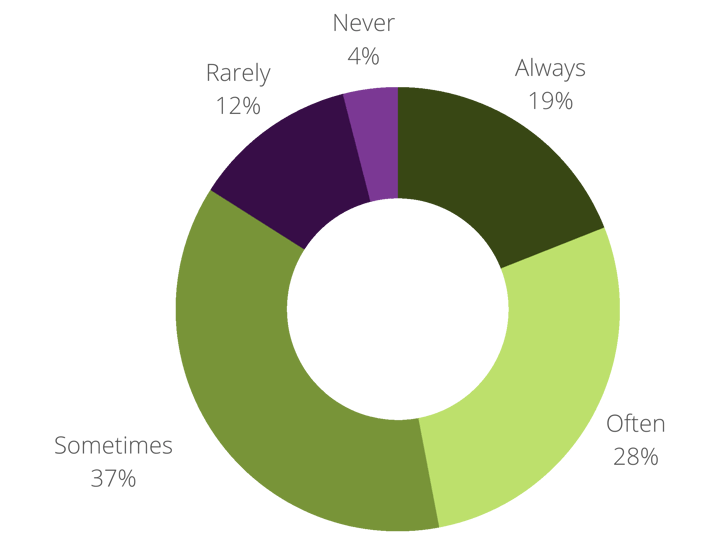 Does Your AR Team Have to Manually Match Payments and Remittance Data?
See How a Marketing Agency Cut Aging AR by 50% using Bill360
Bill360 is making a big difference for B2B companies! WiT Group, a digital marketing agency based in the Carolinas, reduced aging receivables by 50%, reduced transaction processing costs by 30%, and reduced Days Sales Outstanding (DSO) by 88% with Bill360's AR automation.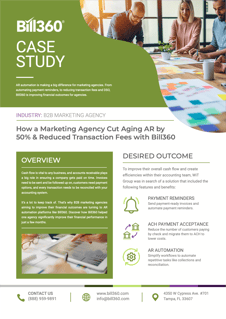 TAKE YOUR EXISTING ACCOUNTING SYSTEM TO THE NEXT LEVEL
Bill360 Syncs to Your Current System and Enhances It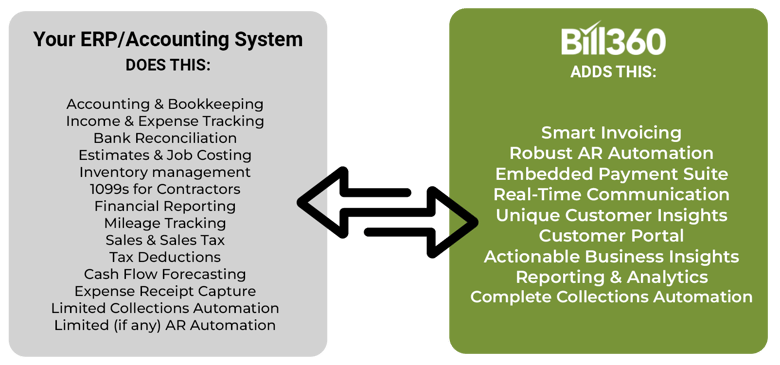 Bill360
From invoice to payment and everything in between
---
Create, Send & Track Unlimited Invoices
Unlimited Number of Users
Embedded Payment Processing
Set-It-And-Go Reminders
Collections Automation
Secure Customer Portal
Reporting & Business Insights
Full Accounting Integration
---
Schedule a Demo and See for Yourself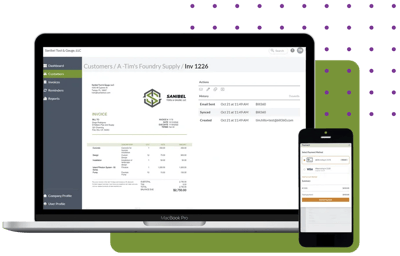 Headquartered in Tampa, Florida, Bill360 works with small-to-medium-sized B2B businesses across the United States to solve their accounts receivable challenges.
Take a proactive approach to managing your accounts receivable and the damaging effects of late payments.
Schedule time with a Bill360 representative for a hands-on demo, so you can see exactly how we will eliminate your AR pain points. Best of all, you can be up and running on Bill360 within 1 hour of your demo and completed application!