Bill360 Will Save You Time & Money

Getting paid faster can improve financial performance, but by how much? Use our DSO Savings Calculator to determine how much you can improve your cash flow and profitability by reducing your Days Sales Outstanding (DSO) and improving your team's productivity with Bill360.
Calculate the following:
Working capital savings
Productivity savings
Reduced DSO savings
Set the options on the right to match your business metrics, then click "Next". Enter your contact information and immediately calculate how much you can save with Bill360's AR automation.
See How a Marketing Agency Cut Aging AR by 50% using Bill360
Bill360 is making a big difference for B2B companies! WiT Group, a digital marketing agency based in the Carolinas, reduced aging receivables by 50%, saved 3.8% on transaction processing costs, and reduced Days Sales Outstanding (DSO) by 88% with Bill360's AR automation.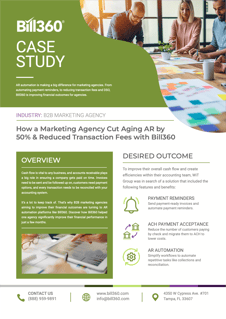 Bill360
From invoice to payment and everything in between
---
Create, Send & Track Unlimited Invoices
Unlimited Number of Users
Embedded Payment Processing
Set-It-And-Go Reminders
Collections Automation
Secure Customer Portal
Reporting & Business Insights
Full Accounting Integration
---
Schedule a Demo and See for Yourself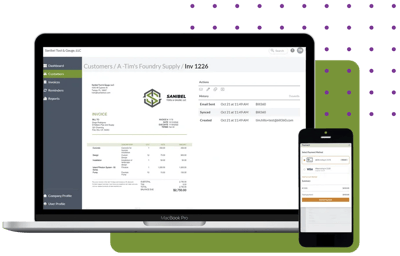 Headquartered in Tampa, Florida, Bill360 works with small-to-medium-sized B2B businesses across the United States to solve their accounts receivable challenges.
Take a proactive approach to managing your accounts receivables and the damaging effects of late payments.
Schedule time with a Bill360 representative for a hands-on demo, so you can see exactly how we will eliminate your AR pain points. Best of all, you can be up and running on Bill360 within 1 hour of your demo and completed application!